Arbonia is a focused building components supplier with two divisions that are active in the areas of indoor climate (heating, ventilation, and air-conditioning technology) and interior doors made of wood and glass. The company, which is listed on the SIX Swiss Exchange, is active worldwide with its own distribution companies as well as with representatives and partners in more than 70 countries. Its main production sites are located in Switzerland, Germany, the Czech Republic, Poland, Serbia, Russia, Italy, Belgium, and the Netherlands. A total of around 6'400 employees work for the Arbonia Group.
Arbonia is listed on the SIX Swiss Exchange. Here you will find all relevant information and documents relating to the Arbonia share.
Annual and first semester reports
Sustainability report 2021
First semester report 2022
22.04.2022
Results of the Annual General Meeting of Arbonia AG
01.03.2022
Arbonia with very positive annual results again for 2021
26.11.2021
Arbonia improves competitiveness through further consolidation of flat panel radiator production
Awards
DieTÜR awarded with Woody Award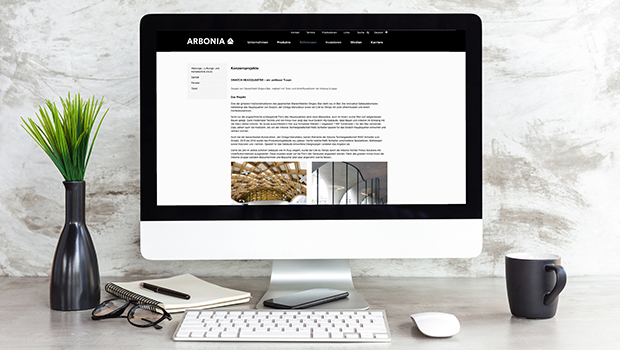 References
SWATCH HEADQUARTER – a timeless dream
References
THE CIRCLE - the largest building construction site in Switzerland
Do you have any questions or suggestions?
We look forward to hearing from you.