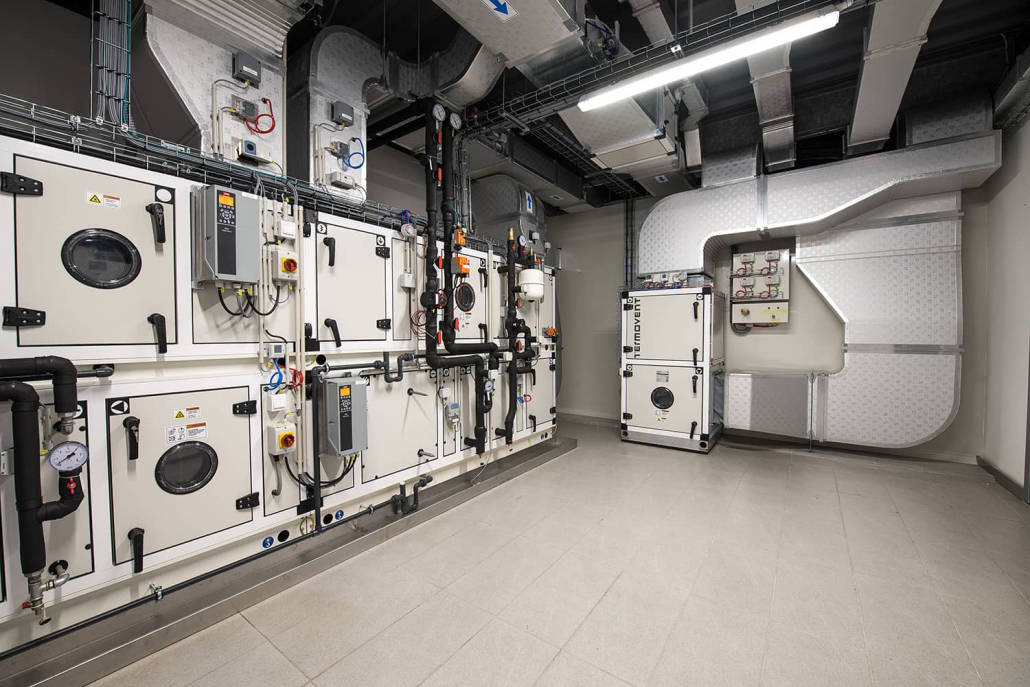 On 31 August 2021, the sale of the Windows Division is closed. Arbonia now consists of the two divisions HVAC and Doors.

The Sanitary Equipment Division has been integrated into the Doors Division as the Glass Solutions Business Unit as of 1 July 2021.

Arbonia has acquired Termovent Komerc d.o.o. (Termovent). The acquisition of this established Serbian manufacturer of commercial ventilation units geographically expands its integrated ventilation system range into Eastern Europe and extends its expertise in the area of indoor air quality, especially cleanrooms.

Arbonia is acquiring the Spanish market leader in the distribution of designer radiators and bathroom radiators, CICSA Industriales del Calor S.L. (Cicsa).

In January 2021, Arbonia announced the sale of its Windows Division.
Years of transformation 2014 - 2020
2020
2019
2018
2017
2016
2015
2014
2020

Arbonia continued to focus on the relevant drivers of energy efficiency, urbanisation, digitalisation and automation.
Continued to push ahead with the expansion and modernisation of its production capacities in all divisions and at all locations
In spite of challenges due to the COVID 19 pandemic, Arbonia completed a successful year

2019

Founding of ARBONIA DIGITAL in January 2019 for the goal of creating digital solutions, services and business models for the divisions
The Doors Division, together with the Berlin-based PropTech company KIWI GmbH, presents a fully integrated, digital access solution for residential entrance doors at the BAU trade fair in Munich
Arbonia opens its new production site for panel radiators in Russia, which will enable the HVAC Division to achieve further growth in Eastern European markets

2018

Acquisition of the Belgian company Vasco Group, the acquisition will expand its geographical footprint and strengthen the division's range of products

2017

Completion of the takeover of Looser Group
Completion of the divestiture of the Looser's Coatings business in the first half of the year
Sale of the Condecta Group in November, Arbonia is focussing on the core businesses of building technology, windows and doors
Split of the Building Technology Division at the end of 2017, as of early 2018 Arbonia reports in four core areas: HVAC, sanitary equipment, windows and doors

2016

AFG acquired the Koralle Group, which expands the Building Technology Division's product range and will help it enhance its position in Switzerland, Germany and Austria
Announcement of the takeover of Looser Group with its business of doors (Prüm, Garant and Invado) and industrial services (Condecta).
AFG Arbonia-Forster-Holding AG was renamed Arbonia AG

2015

The General Meeting elects Alexander von Witzleben as the new Chairman of the Board of Directors
Alexander von Witzleben takes over the role of interim CEO in July
The Board of Directors decides to relocate production plants to other European countries as a result of significant pressure from competition
The Eastern German window manufacturer Wertbau GmbH is taken over in August
As part of a capital increase carried out to strengthening the Group's financial standing, Artemis Beteiligungen I AG has increased its stake to just under 28%

2014

Sale of the kitchen business and the STI Group
Takeover of Sabiana, a market leader in commercial heating, ventilation and air-conditioning
Artemis Beteiligungen I AG, led by Michael Pieper, became AFG's new main shareholder
2013
2012
2011
2010
2009
2008
2007
2006
2005
2004
2003
2001
2013

Sale of Forster Refrigeration Technology
Sale of Forster Precision Steel Tubes

2012

AFG sells its transport and logistics business Asta
Divestiture of British subsidiary Aqualux
Sale of Warendorf
Acquisition of the Polish window manufacturer Dobroplast, in order to expand the core business Windows

2011

Edgar Oehler was succeeded as Chairman of the Board of Directors by Paul Witschi on 29 April and as CEO by Daniel Frutig on 1 June.

2010

shareholders at AFG's ordinary General Meeting approved the abolition of the hitherto unequal weighting of registered shares and bearer shares, introducing a single class of registered shares.

2009

AFG presented its new Warendorf brand of kitchens. This represents the successor to the Miele Kitchens (Miele Die Küche) brand.

2008

AFG took over Slovaktual s.r.o., Slovakia's leading windows manufacturer. In October, AFG set up a new Asia Pacific regional branch with headquarters in Shanghai (CN).

2007

AFG acquired STI Surface Technologies International Holding AG, Steinach SG (CH) and RWD Schlatter AG, Roggwil SG (CH). In September, AFG acquired the British company Aqualux Products Holdings Ltd.

2006

the Group acquired Schmidlin ASCO Swiss AG, Zwingen BL. The company specialises in underfloor convectors which, alongside their conventional heating function, can also be used for cooling.

2005

there followed a further acquisition: in September, AFG acquired Miele Kitchens, based in Warendorf (D), from the German company Miele & Cie. KG, based in Gütersloh (D).

2004

there were three acquisitions: Bruno Piatti AG, Dietlikon ZH (CH); EgoKiefer AG, Altstätten SG (CH); and Spedition Gächter GmbH, Stachen-Arbon TG (CH).

2003

the Züllig estate sold its majority interest to Dr Edgar Oehler, the new CEO and Chairman of the Board of Directors.

2001

AFG took over the German company Kermi GmbH, which provided a major boost for its radiator and shower stall business.
1999
1987
1973
1954
1904
1874
1999

Jakob Züllig, majority shareholder and Chairman of the Board of Directors, died. Prolux Heizkörper AG was bought in the same year.

1987

AFG Arbonia-Forster-Holding AG was registered with the commercial register with CHF 30 million in share capital. A year later, the company was listed on the stock exchange.

1973

the majority of the shares in Hermann Forster AG were transferred to Arbonia AG, which had been wholly owned by Jakob Züllig since 1959. The Arbonia-­Forster Group comprised Hermann Forster AG (steel tubes technology, kitchens and refrigeration equipment), Arbonia AG (radiators and heaters), Asta AG (road transport) and Buhler-Regina AG (embroidery supplies).

1954

Arbonia AG was established.

1904

Karl Schnitzler set up a factory to make heat exchangers under the Arbonia brand.

1874

Franz Josef Forster opened a coppersmith's shop producing hot-water bottles, cookware and other receptacles. The company changed its name to Hermann Forster AG in 1922. It had now begun to manufacture steel tubes.